On Wednesday Evening there was much ado happening at the Armory on Lexington as Donatella Versace and JW Anderson presented the Versus Collection. One of the JenéeSaisQuoi art & fashion reporters, -O-, was on the ground floor to give us her insider perspective:
AT FIRST LOOK
by: -O-
The new take on appropriation art that could be watched during Frieze art fair continues. If Paul McCarthy can present a Jeff Koons Balloon dog as his own work, with the only difference being that his Balloon dog actually is a real, rubber inflatable one, why shouldn't J.W. Anderson come up with Proenza Schouler's PS 1 bag for his Versus capsule collection? He just covered them with safety pins and Medusa's heads, and there you go.
It's a Week of Art Appropriation.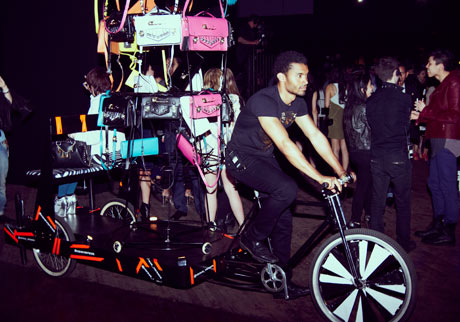 The Bags
Anyway, the models, especially the male models, looked gorgeous and kept their white eye make up on during the party. Trout Pout mommy, Donatella, stayed in the aquarium like glass box where you could see her fitting clothes on the models before the show. The real show and the place where Donatella finally would be in the vanguard was: the music. Angel Haze, Dead Sara, and especially Grimes would make me wish I could have their world of sounds as my wardrobe.
Here are some pics of the clubby scene and the Fashion!!: